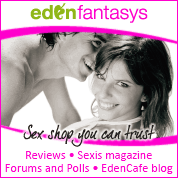 You know I love EdenFantasys for everything from luxury vibrators to beauty products.  And if you have spent more than three seconds on this site, you have most likely figured out that I love getting rewards when shopping, especially when shopping online.
As such, I feel that it is my duty to tell you guys about EdenPoints.  While EdenPoints is like every other website reward program in that it gives you points for your purchases, it is slightly more exciting.  You can get EdenPoints for doing things that you do when browsing a their site anyway:  such as searching for products (five points, up to five times per day), rating reviews (two points, up to seven times a day), and even just verifying your email address (fifty one-time points).
So you've got some EdenPoints.  Now what do you do with them?  These points are easily redeemed for gift cards that you can use on your next order with EdenFantasys.  All that is required to cash in your EdenPoints is to go to your account dashboard (easily reached from any page on their site!).  Just click on the link next to your balance, and your balance is converted to an immediacy useable Eden Fantasys gift card (amount depends on the daily exchange rate for points).
Given the diverse array of items EdenFantasys sells (and it is not just sex toys, there are bath and beauty products and lingerie to be had), I think everyone should sign up for this reward program.
Post Footer automatically generated by Add Post Footer Plugin for wordpress.